The Blue Jays' Gurriel Jr. Won't Throw it Away That Easily
As a fan, it was energising to watch the Blue Jays start promoting their rising talent to the big league club in 2019. The Jays were one of the oldest teams in Major League Baseball for the better part of the 2010s, even during their playoff runs of 2015 and 2016, so the new speed and style of play really broke through by the end of the season. For the next generation of homegrown talent, their first tastes of the majors had the usual growing pains of adjusting to big league life, and included several displays of spectacular potential, but one young player felt the ups and downs even more acutely than his teammates.
For Lourdes Gurriel Jr., whose first tour with the Blue Jays was in 2018, struggles on both offence and defence threatened to displace him from the Jays' future plans. The team had lots of talent in the organisation; a player like Gurriel struggling to execute the basics could have easily been traded away or indefinitely relegated to the minors to make space for someone else. The Blue Jays had been no strangers to that move for years, many times opting to move prospects who needed further development in return for older, game-ready players.
Despite a promising 2018 rookie season and a handful of highlight reel displays early in 2019, Gurriel's confidence appeared low at the plate and a string of fielding errors began costing the team wins. Watching his play deteriorate began to be painful for the team and fans alike. Even broadcasters began asking aloud if he was ready to be in the majors, much less in the starting lineup.
Just a month of play into the 2019 season, the outlook was dire. Gurriel Jr. very nearly faded into the Major League Baseball unknown with countless other young players whose careers fizzled early.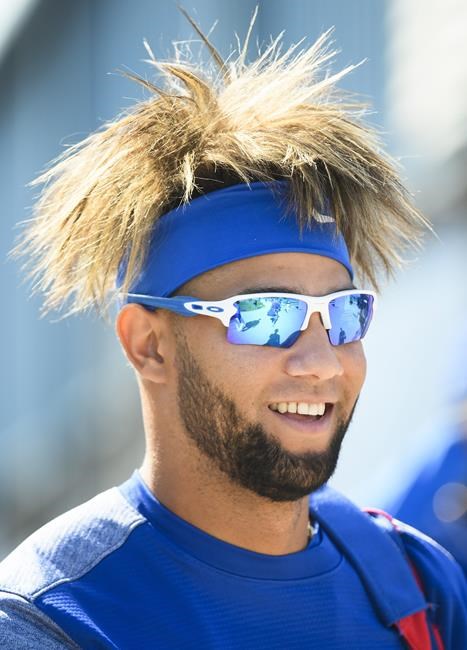 Lourdes Gurriel Jr. was immediately a fan favourite in double-A New Hampshire and triple-A Buffalo with his high-intensity play, infectious smile, and patented pineapple-spike hair. Along with catching the Blue Jays' eye with his character, just two years into his tenure in the Jays organisation he displayed above-average offensive potential, notably batting .305 in 2018 before making his Jays debut.
Toronto fans saw him as the spark the team needed to become competitive again after years of free-swinging and injury-prone free agent signings. Gurriel showed a level of hustle and exuberance that just wasn't present in their aging squad. It was encouraging to see him maintain strong results in 65 appearances as a rookie with a .281 batting average and 35 runs batted in, six more than the average major leaguer in the same number of at-bats. Major League Baseball even awarded Gurriel the July 2018 American League Rookie of the Month for his performance.
By the early days of 2019, the Blue Jays began investing resources in marketing their new young stars, airing television advertisements that developed their respective brands. "Piña Power" was gaining more traction with fans and the ball club planned a Gurriel Jr. bobblehead giveaway for a home game on April 24th, tall hair and all.
Early in the season, Gurriel's signature high-octane playing style earned him highlight reel honours when he stole home on April 9th against the Red Sox, but the highlights stopped there. It took him five long games to register his first hit of 2019. Strikeouts piled up through March and April while the hit column remained sparse.
Overtaking a batting average of .200, the so-called "Mendoza Line" marking the threshold for truly terrible hitting, was not in the cards for Lourdes. The highest his average rose in April was an abysmal .179 and in the weeks leading up to Piña Power bobblehead day, the second baseman began struggling defensively as well.
The saga reached a new low on April 13th when Gurriel sailed a short throw to first base well wide, extending the inning in a close game. It would have been an ugly throwing error for any player, but with Gurriel struggling to make contact at the plate, it looked like he was losing his touch. His play was becoming hard to watch; broadcasters nodded to his struggles during his at-bats and discussed options that would alleviate the pressure. The question of "can he do it?" loomed large over every play.
The emotional toll was heavy. Fans could see his teammates rooting for him, jostling and high fiving him to keep his confidence up, but eventually they let him sit alone on the bench when the reality of a wholesale slump became overwhelming. It's a tough change to witness when even players who will hype the small victories become quiet.
Following the error, it was reported that Gurriel worked with infield coach Luis Rivera and teammate Freddy Galvis to work on mechanics and try to let go of the misplay. He might have needed another day to recover since the session appeared to have little effect on Gurriel's mental game. He committed another embarrassing throwing error in the following game on April 14th, again from a painfully short distance, this one costing the Jays the lead. He was lifted from the game between innings in favour of infielder Alen Hanson and could be seen sitting in the dugout with his head in his hands when his teammates took the field, no doubt the groans of the crowd still ringing in his ears.
Somehow the ugly had gotten uglier.
On April 16th, eight days before he was due to be celebrated by teammates and fans alike, manager Charlie Montoyo delivered the difficult news: Gurriel was demoted to Buffalo.
A player's poor performance often has little to do with the act of hitting or throwing a ball, but instead a reflection of bigger factors like media pressure, changes to routine, or injury. The key to breaking out of a slump, especially as a young player, can be as simple as incorporating new activities into the usual routine. Learning a new position, focusing on big motions and big concepts, and letting big league pressure dissipate in the smaller market of triple-A Buffalo turned out to be just the low-stakes exercise Gurriel needed to shake his recent woes.
After arriving in the Bisons clubhouse free of much of the Toronto media pressure, Gurriel got to work on rebuilding his confidence. Buffalo manager Bobby Meacham slotted him into the designated hitter role at first, letting Gurriel just focus on hitting. Sure enough, the first signs of life came swiftly from the batter's box.
Meacham's offensive strategy worked. In 123 plate appearances from April 16th to May 24th, Gurriel recorded 34 hits for an average of .276, a complete turnaround from the abysmal performance just weeks prior. Hits came more easily, as did the familiar raucous celebrations with his teammates.
Gurriel's trip to the minors gave him plenty of room to grow defensively as well, with Meacham experimenting with different defensive alignments. Gurriel had a few starts at shortstop, some at second base, to results that were just okay. More errors and still underperforming. Then in mid-May, Meacham put him in a lineup as the Bisons' left fielder, despite Gurriel having had no professional experience playing in the outfield. His last recorded outfield appearance was in 2016 as a 21-year-old.
The move was a gamble that weighed Gurriel's natural talent and resilience against two months of deeply unwatchable play. If he couldn't pull together a solid performance, more questions would be asked about his fitness for returning to the Blue Jays. This was the razor's edge between making it and struggling to stay relevant in a farm system bursting with young talent.
The sun came up on Lourdes Gourriel Jr. in left field. His athleticism carried him through long sprints into the left-centre field gap. A fearless disposition saw him diving and tumbling to make catches worthy of a highlight reel. The move proved to be just the shift Gurriel needed to bounce back in every aspect of his game. Meacham bet on the right player.
Coming off a month where he committed four errors in the infield between the Blue Jays and the Bisons, Gurriel's play in left field revealed untapped potential that, coupled with his resurging bat, caught the attention of the major league club once again.
Charlie Montoyo welcomed Gurriel back to the Blue Jays on May 24th with the left fielder poised to keep his momentum going.
Lourdes Gurriel Jr. did not let the second chance go.
Upon his return to the Blue Jays, each of his starts for the remainder of the season were in left field. He did not commit an error at that position from May 24th onward.
Toronto sports media welcomed him back with a fondness that was revealed as he played with his usual flare. This newfound confidence almost skewed the perspective for the rest of the outfielders, as though Gurriel was the seasoned member and the others were just trying to keep up. Not a bad position to be in for a player trying to regain his club's confidence.
Offensively, the slump was also put to rest. After being called back up, Gurriel maintained a .365 batting average for May and June, with 10 home runs and 20 runs batted in during the month of June alone. His bat performed well down the stretch and his .277 batting average was tops on the team by the end of the year.
Gurriel Jr. finished 2019 leading the league in outfield assists. He won the starting left field job for the 2020 Blue Jays season.
In January 2020, the Blue Jays announced a Piña Power Hawaiian shirt day as part of their upcoming promotional schedule.